Stepping out into the arrival room made me feel like I had finally conquered my awarded senior superlative: "Most Likely to Be a Celebrity." There were hundreds of people staring at me holding pieces of white paper, each with a single name written on it. Scanning the sea of names was quite exhilarating! About ¾ of the way down, I spotted my name sign: "Welcome to Bali: Erica Batstone." It was Made! I had been emailing him for months now about my arrival and it was actually happening! I quickly got some Aussie dollars changed over to Rupiah and stepped out of the airport to greet Made.
As we drove through the busy city streets of Denpasar, I kept saying how it felt like I was in a dream. I have been anticipating this moment for months. Bali was always a place on my dream travel list and I was completely overwhelmed by the reality of it.
Along the busy road, we passed lots of gigantic stone carvings of different gods and Buddha. There were scooters whizzing past us left and right. It was a surprise to me that accidents didn't occur more often. Throughout the ride, we engaged in great conversation about his family, who I'd be meeting very soon.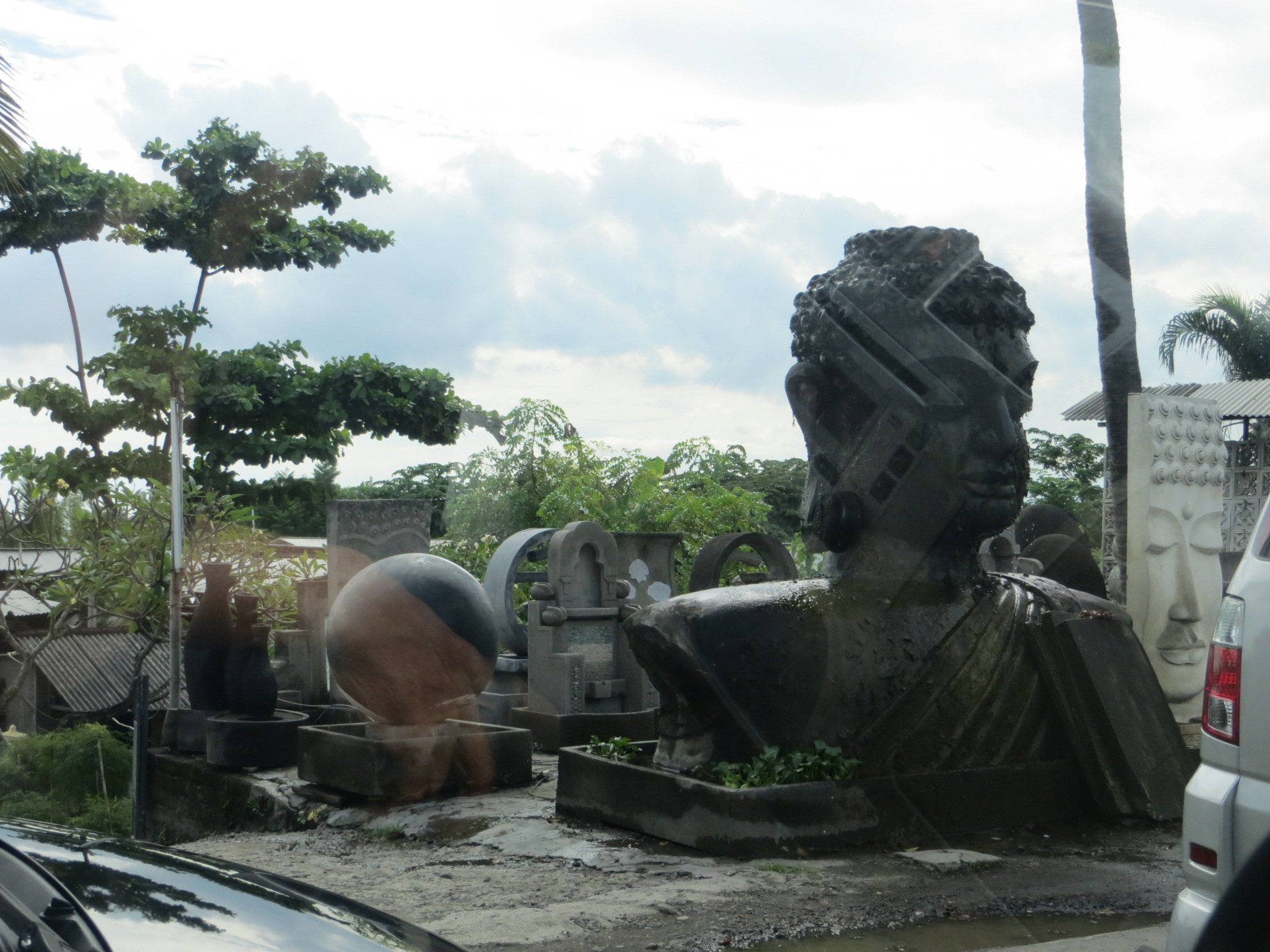 Once we parked the car, we walked down a narrow pathway to the end of the block and arrived at the most beautiful house adorned with traditional Balinese carvings overlooking a gorgeous green field complete with a river and tall palm trees. I entered the room where I'd be staying and was pleasantly surprised to see a comfy double bed with 4 posts and an elegant mosquito net surrounding it. I laid my gear down on the tiled floor and sat comfortably on the veranda outside my room. Made made me a delicious black ginger tea and I slowly sipped it while offering gratitude to God for bringing me to such a special place to begin my month long journey in Bali.
That night I met his family and ate my first homemade Balinese meal. It was amazing and filled with so much flavor and SPICE! (Very spicy, in fact, the following mornings were a bit heated on the lieu, if you catch my drift. TMI? Perhaps. :-p). We had chicken meatball soup, long beans sautéed in coconut oil with chilies, tuna sate, eggs fried in coconut oil, sambal (tomato and chilli. A condiment they have with most dishes), and of course white rice.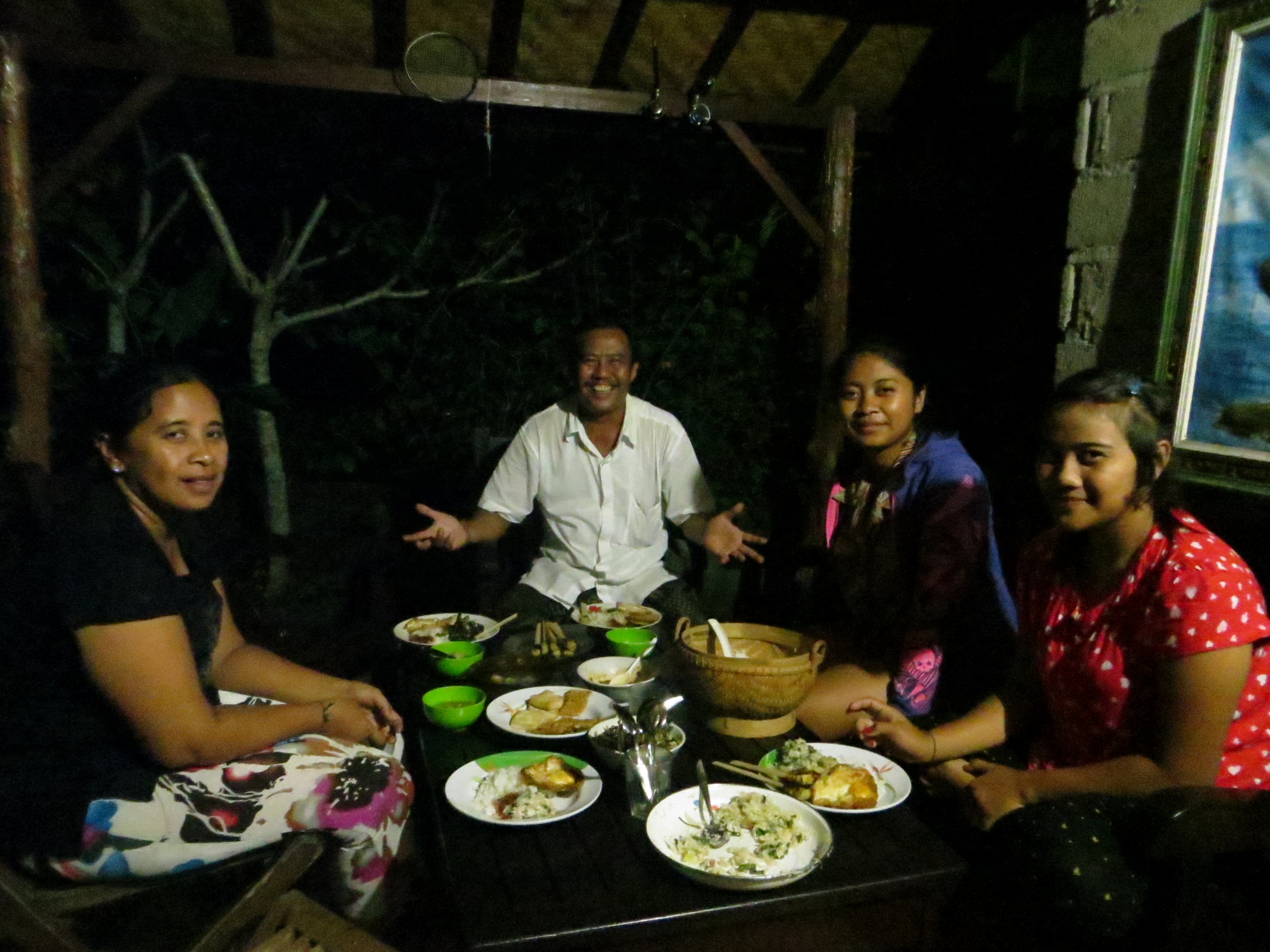 That night, Made and I stayed up talking about all kinds of great topics and I discovered his unique wisdom. He had a great way of creating visual metaphors in the way that he spoke which helped me to connect them to my life. We engaged in deep, spiritual, meaning-of-life type conversations for the next few nights.
Waking up the next morning felt as thought I was still dreaming, but soon realized this was my beautiful reality; however, overnight, I had developed about 50 bug or ant bites all over my feet. I had a feeling something like this would happen at some point in my journey so it didn't really bother me.
The next 6 days at Made's home in the village were filled with acoustic guitar singing sessions, trips to nearby temples, going to the spa, eating at a small café in a nearby village, going to a baptism, drinking arak (coconut wine, tastes like vodka, not as strong), and attending several temple ceremonies.
The ceremonies were the most memorable for me. The first one I attended was a cleansing ceremony at the large temple. Made's wife's dressed me in a lace top and tied my sarong around my waist. After our short motorbike ride, we entered the temple and took a seat on the stone ground. We stayed seated for about 2 hours and it was quite painful due to the small stones in the cement that stuck up at your rear. Despite the pain, the ceremony was beautiful and I was very humbled to be a part of it. The ceremony began with each person lighting incense and sticking it into the ground in front of them.
Then grasping a flower, they would swipe it in the smoke coming from the incense, place it between their two pointer fingers and then put their hands in prayer while touching the base of their thumbs to their forehead. After they prayed, the women placed the flower in their ponytail or bun and the men put it either behind their ears or in their white cap. This was continued with about 3 more flowers. Once the prayers were completed, the sermon was given. Following the sermon, men and women holding buckets of holy water, a small brush and crushed rice walked around to each person. Each person received 4 sprays of holy water in their cupped hands. The first three were drunk and the last one was put over the top of their head and on their forehead. Then they took a bit of crushed rice and put it where you can imagine your third eye to be. It was a beautiful ceremony and I am honored to have been a part of it. The funny thing about the end of the ceremony was that once everyone received their holy water and rice, they were out of there! It reminded me of Catholic church as a kid. You couldn't wait for the final sign of the cross and hymn to be sung so you could leave. I guess we are all the same really!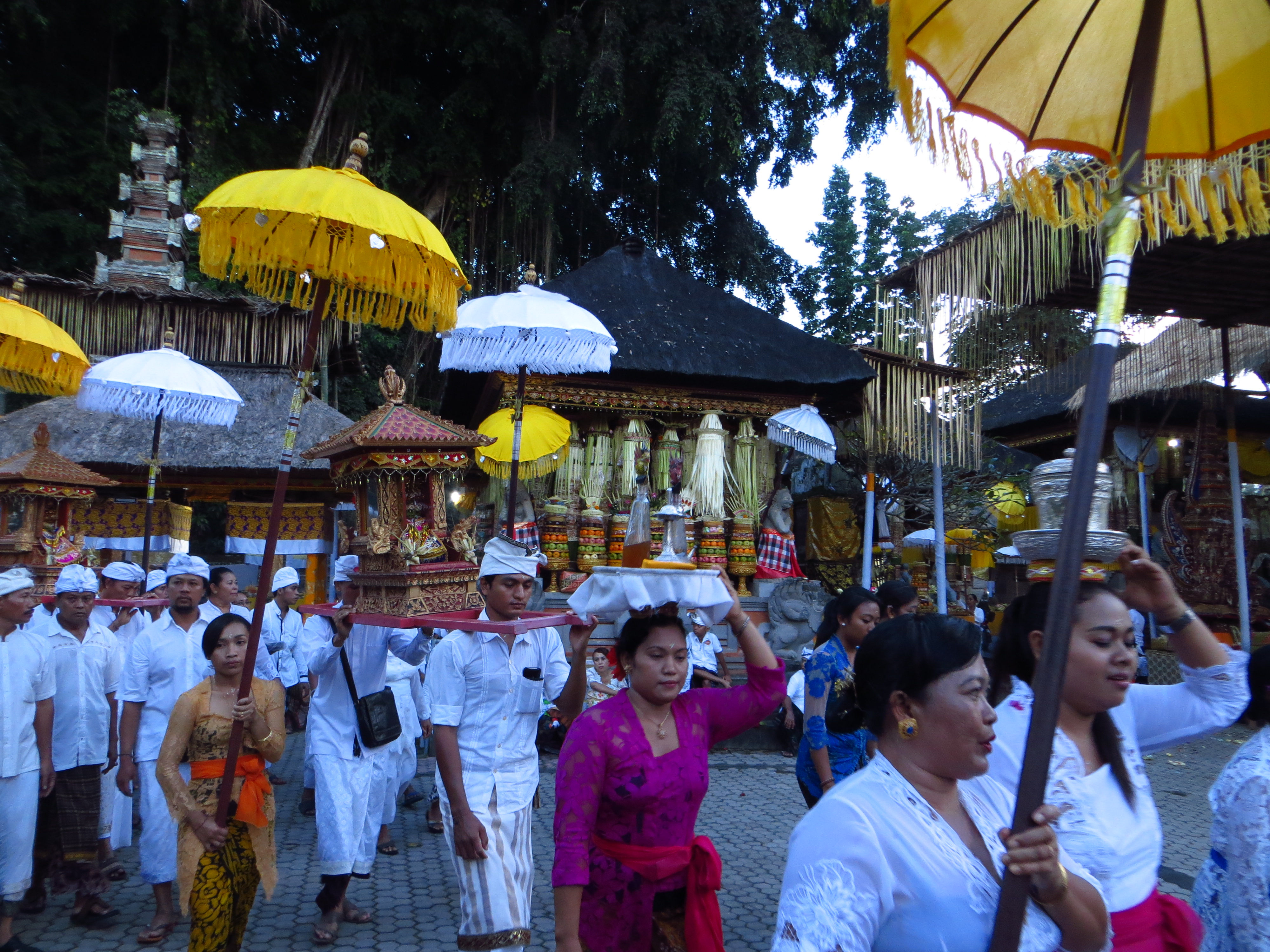 The following night I attended the largest festival of the year with the family. It was filled with thousands of Balinese from many different villages. It was a festival to give thanks to the Gods for all they provided them with that year. There was a massive parade of people in their traditional outfits and women carrying tall offerings filled with fruit, money, rice and sweets on their heads. I walked with the parade through the temple and gazed in awe at the colorful attire and temple décor. The energy was electric and I was consumed with gratitude. Throughout the night I witnessed Legong and masked dances as well as traditional live music. It was a powerful experience and everywhere I looked I uncovered something new and exciting. Also, being one of the only 5 Westerners amongst at least 3,000 Balinese was also a wonderful feeling.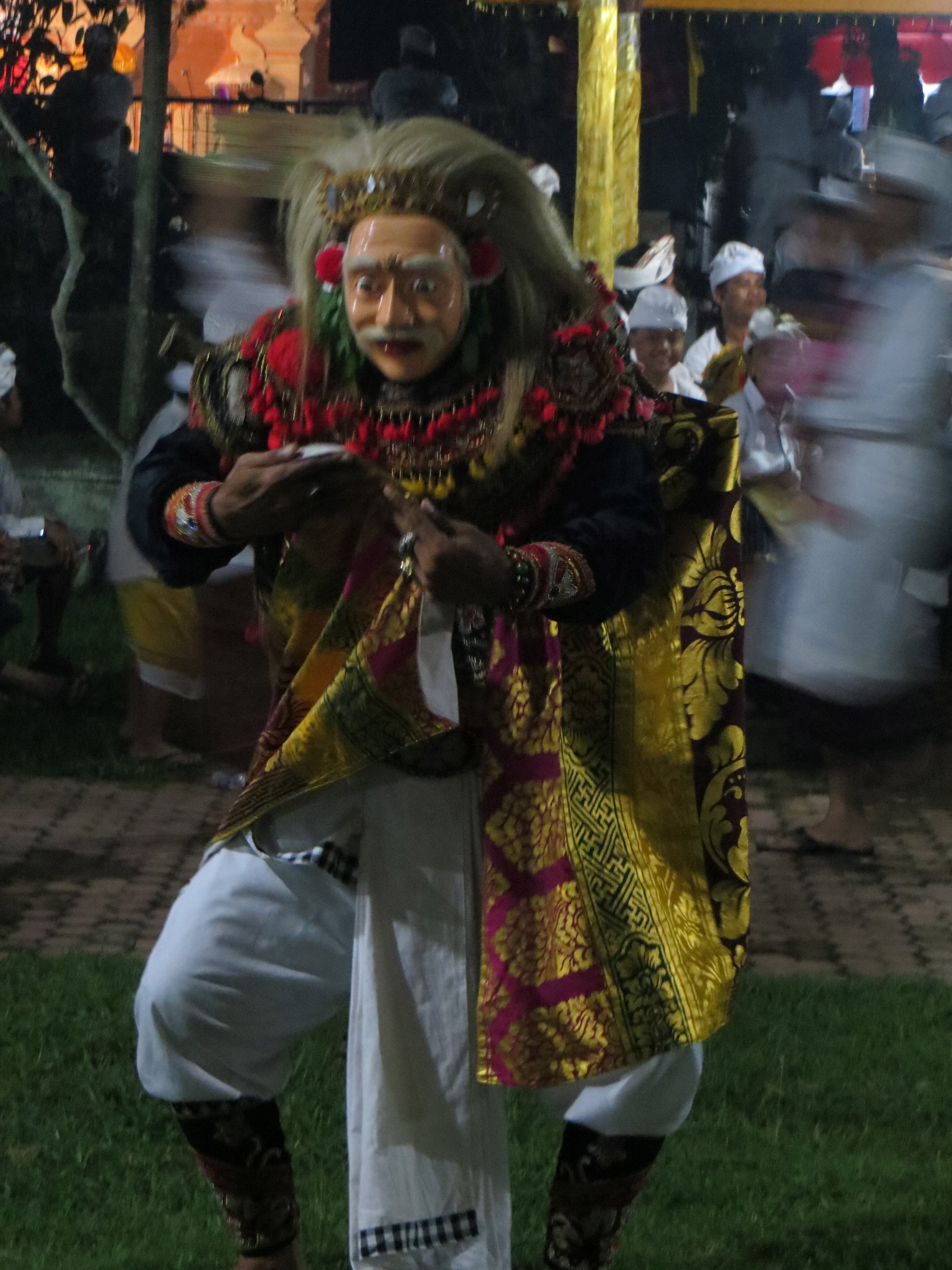 My time at Made's home ended with a birthday cake for my 29th year. It was a very kind gesture and the whole family sang to me. I even had a banana pancake that morning for breakfast. I don't think they knew that was one of my favorite birthday traditions, but it happened organically. J
I thoroughly enjoyed my stay in the village, though at times it was isolating since I was far out from the city, but it gave me lots of time to do my writing and reflecting on what I hoped my month in Bali would be like. I can say that looking back, I wouldn't have changed a thing.