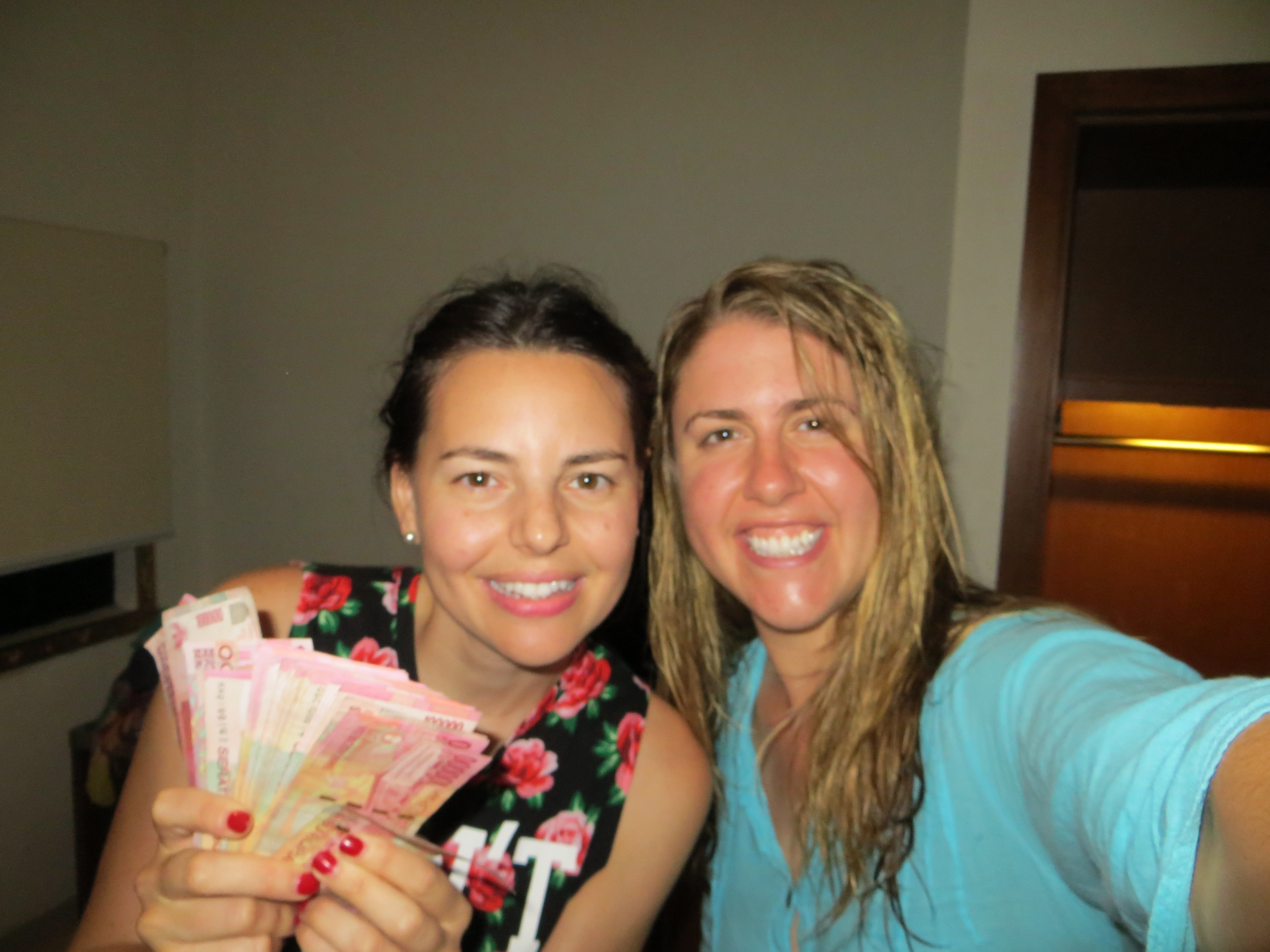 The second part of my trip in Bali reconnected me with one of my greatest friends whom I had met in New Zealand at Kimi Ora almost 3 years ago. Her name is Mathilde and we consider ourselves Soul Sisters. She is a beautiful French lady, but is living in Dubai at the moment, working as a flight attendant on Emirates Airline.
I had written her about 4 months before my trip to Bali asking if she'd be interested in meeting up for a short trip. Honestly, in my head, I thought there'd be no chance with her busy schedule. After months of chatting, it seemed it was actually going to work! Instead of only have 5 days off, she was given a total of 10! On the day of her arrival, I met her at the airport with my driver and I had a sign reading "Soul Sister" for her to see upon arrival since I knew how great it felt to have a sign with your name on it. We embraced and took several moments to let it sink it. It was happening; this is going to be RIDICULOUS (one of our token sayings)!
The driver dropped us off in Seminyak, a high-end ocean front town on the southwestern coast of Bali. Our night there was spent beach bar hopping and reminiscing about our past adventures in NZ together. The first beach bar we visited was La Plancha which I highly recommend for sunset gazing! It is a color lover's paradise. In front of the restaurant are wildy bright colored bean bags chairs and traditional Balinese umbrellas of every color. Luckily, we found a spot for two in the sea of international visitors. We ordered 2 delicious fresh strawberry margaritas and made a toast to a great week to come.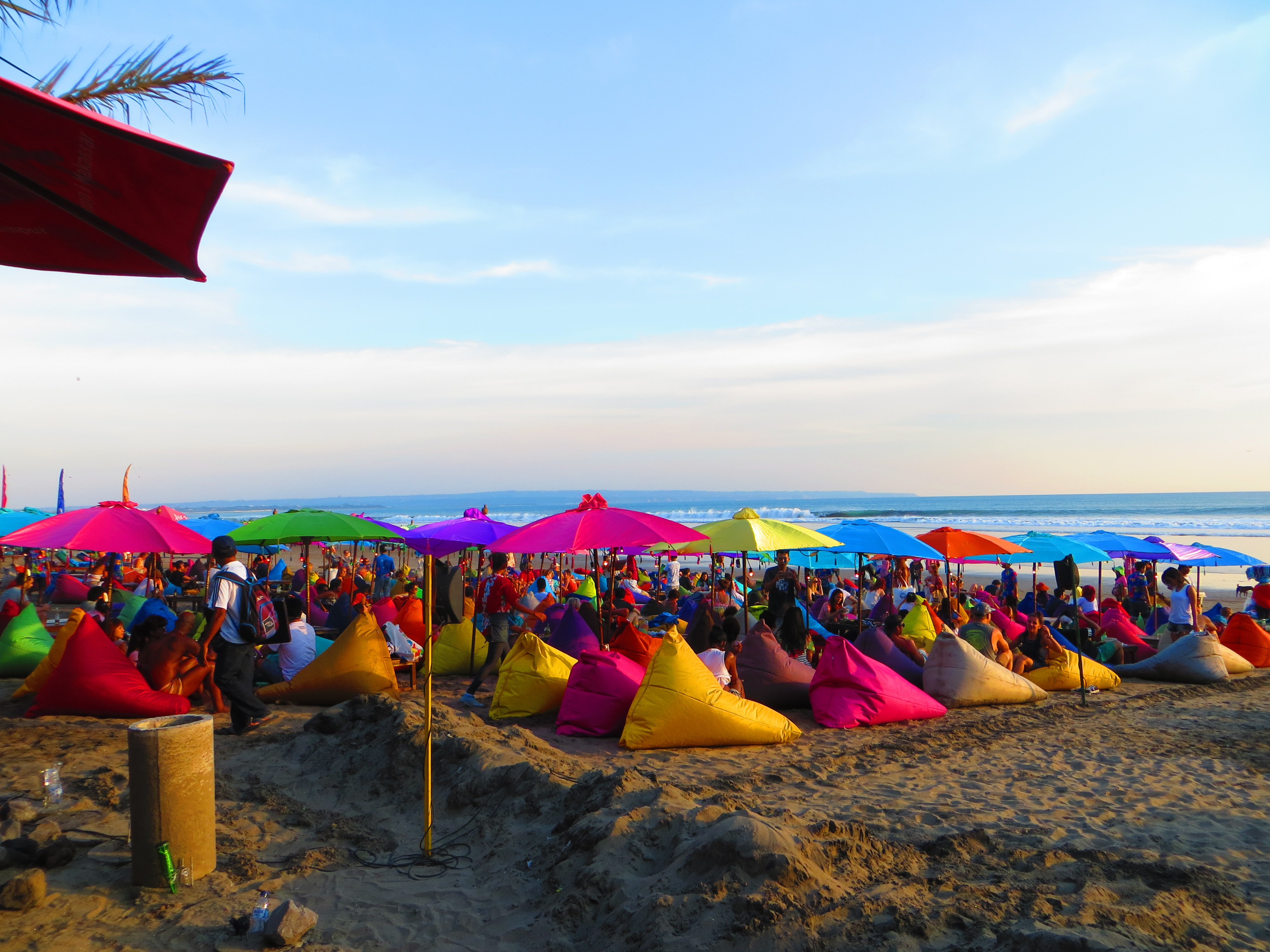 After sunset we walked the beach, browsing the other options for beach bar delight. We came across an amazing 4-person band playing on a lit stage overlooking the ocean. They were full of energy and were playing requests from the crowd. Mathilde and I sent up a piece of paper with one of our favorite songs from our NZ road trip together, "Ho Hey" by the Lumineers. They were pleased with the request, played it for us and we joined in singing.
The next day we headed to Tanah Lot, the famous temple that sits on the ocean off the western coast. We checked into the most beautiful hotel with a crystal infinity pool and the largest room I have ever seen. We also had a pretty awesome partial outdoor bathroom, which I really adored. In addition to the room and amenities, we both got a complimentary foot massage, afternoon tea and dessert as well as breakfast in the morning. All of this for only $40/night for the two of us. (No wonder this place is hard to leave). While in the pool we met a wonderful American named Dara who would join us during our temple visit. We seemed to have struck the temple on the perfect night because low tide was exactly at sunset which meant we could walk up close to the temple and walk along the coast to the rocks across the way to have the best spot for some irresistible sunset watching.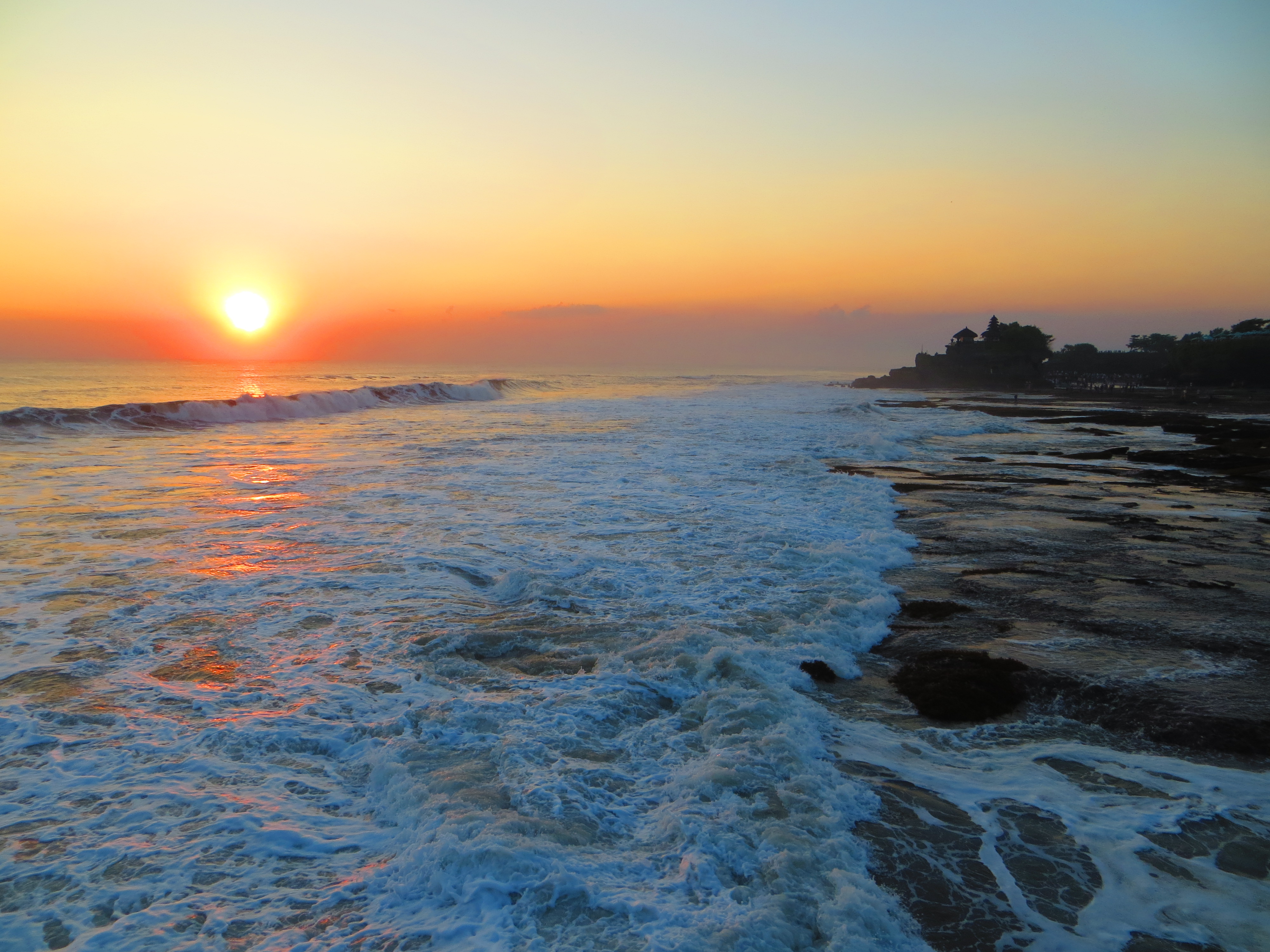 The following day we headed back to Ubud via taxi and explored the city in search of a great deal for a Gili Island getaway. After negotiating a good price with a local agent, we scored a great package the included hotel pick up and transportation to Padangbai on the eastern coast where we would board our 2-hour boat to Gili Trewangan. We began the journey sitting inside the boat where we found it hard to breath with the strong smell of gasoline blowing into our faces from the air-con vents on the boat. It was awful. We tried to cover our mouths and noses with our clothes, but it was unbearable. (Note: exactly 4 weeks later, this same boat carrying a boat full of passengers, had a massive explosion on board in the middle of the ocean leaving people badly injured. Crazy). We were able to climb up to the top deck where we found a much better scene. There were at least 20 people sitting up against buoys and rails wearing bikinis and grooving to the reggae beats coming out of the speaker. What a pleasant relief!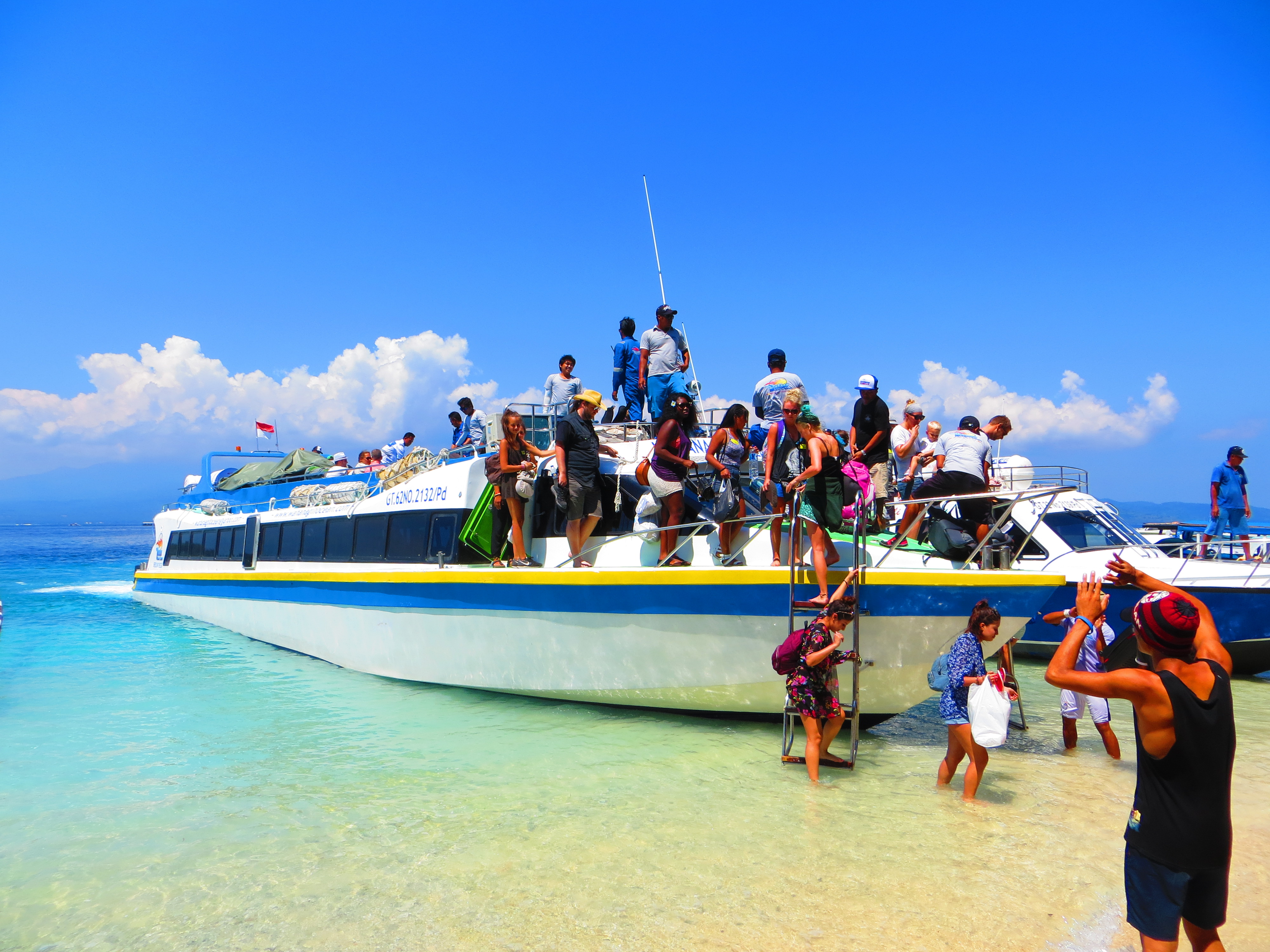 We made it to Gili T and after checking into our decent hotel, we rented bikes and proceeded to take a joy ride around the island. Once on the bikes, our first stop didn't take too long to arrive at. Just up ahead, we saw a little beach with gorgeous blue water and knew we had to jump in. The dead coral that made up the majority of the beach was a bit of an obstacle, but the feeling of swimming in the ocean on a hot day on a tropical island, made every concern slip away. After our dip, we proceeded to ride in our bikinis, legs out, enjoying the wind against our dripping skin. Along our route, we found ourselves swinging on swings in the sea, eating in huts on the beach, laughing with locals, and scoping out the best sunset spot. We found it. Exile was the name. It was rustic bar on the western side of the island providing a perfect front row seat for one of the most wondrous sunsets I've ever seen. As the sun kissed the horizon, the sounds and vibrations of African drums began behind me. My soul immediately felt energized and my feet so wanted to dance. You may find it hard to believe, but I always get a bit nervous before I decide to dance in public. Putting the fear aside, I thought hey, why not. No one knows me anyway. 😉 I grounded my feet in the sand and felt the rhythm permeate my hips. Giving it my all, I rediscovered the African moves I had learned back in Asheville, NC years before. After dancing for awhile, I had my try at the djembe drum. Playing along side 4 other local dudes, I was able to fit right in and share my skills. Magic, pure magic. The rest of that night was filled with lots of shenanigans.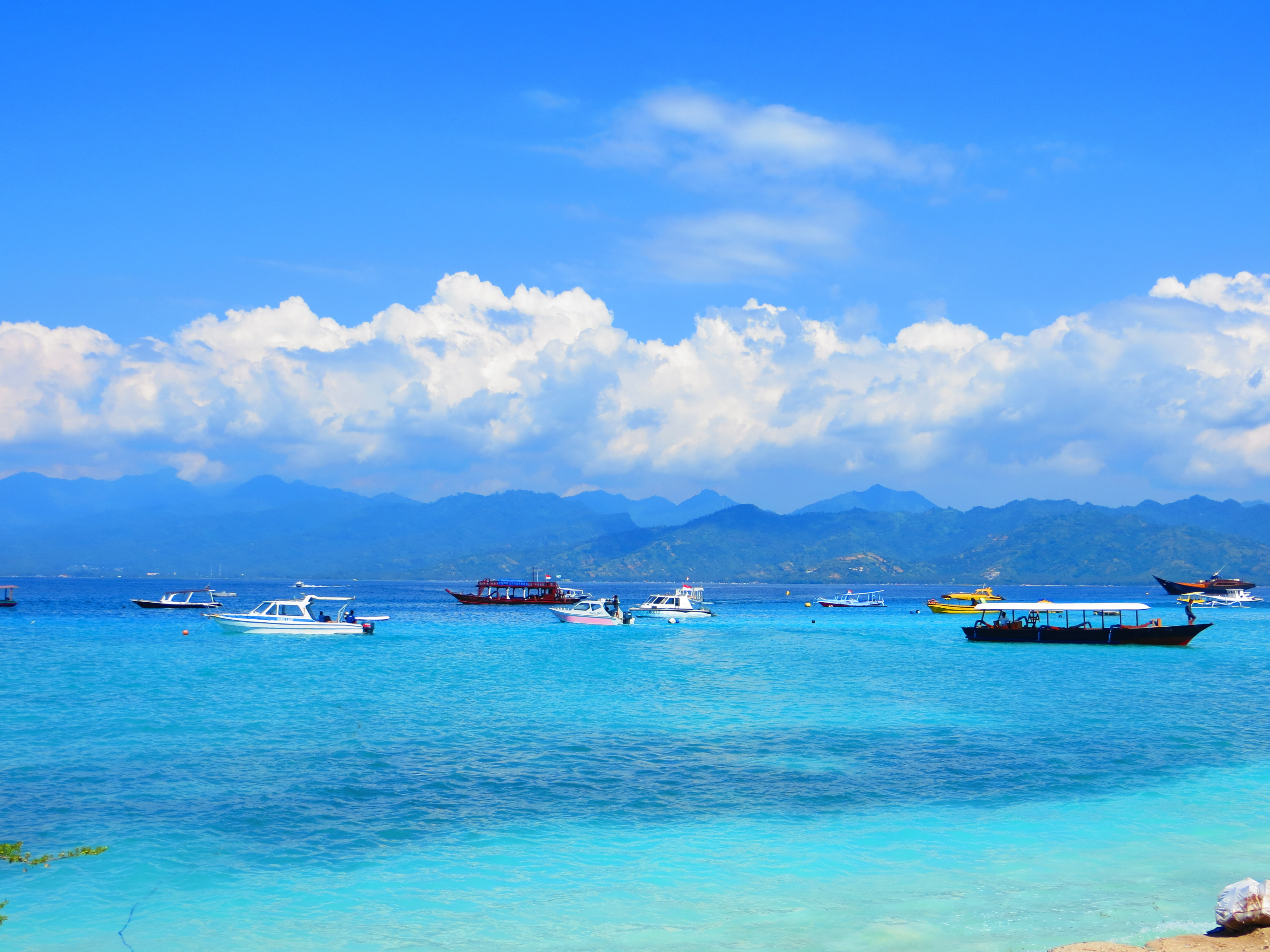 After a night of wild fun, we made our way to Gili Air via speed boat. When we got there, we could immediately sense the peacefulness of the island compared to Gili T. It was like night and day. We asked someone how far our hotel was and we were told about a 10 minute walk. So despite my heavy 50lb pack, we decided to walk and forego paying $8 for a horse drawn cart ride. After about 5 minutes in, I could not stand to carry my pack anymore because of its weight and Mathilde volunteered to switch for her rolling suitcase. I graciously accepted the trade. We walked and walked. About 20 minutes in, a cart pulled along side us asking if we needed transportation. We told him where we were staying and he laughed saying that it was another 30 minutes. I was furious, but my determined mind couldn't bare to pay for a taxi when we've already made it half way. It was brutal and after walking 45 minutes, we made it. The hotel was in a perfect location, right on the curve of the island and it had amazing sea views. When we checked into our room, it was another story. The room looked as if it was designed by my late Italian grandmother, which gave me an ounce of emotional comfort. It was very outdated with very uncomfortable springy mattresses and the bathroom had a fake red rock wall fixture that made me want to puke every time I had to go in there. This was a part of Bali I hadn't seen before, but it didn't spoil the fact that we were still in paradise!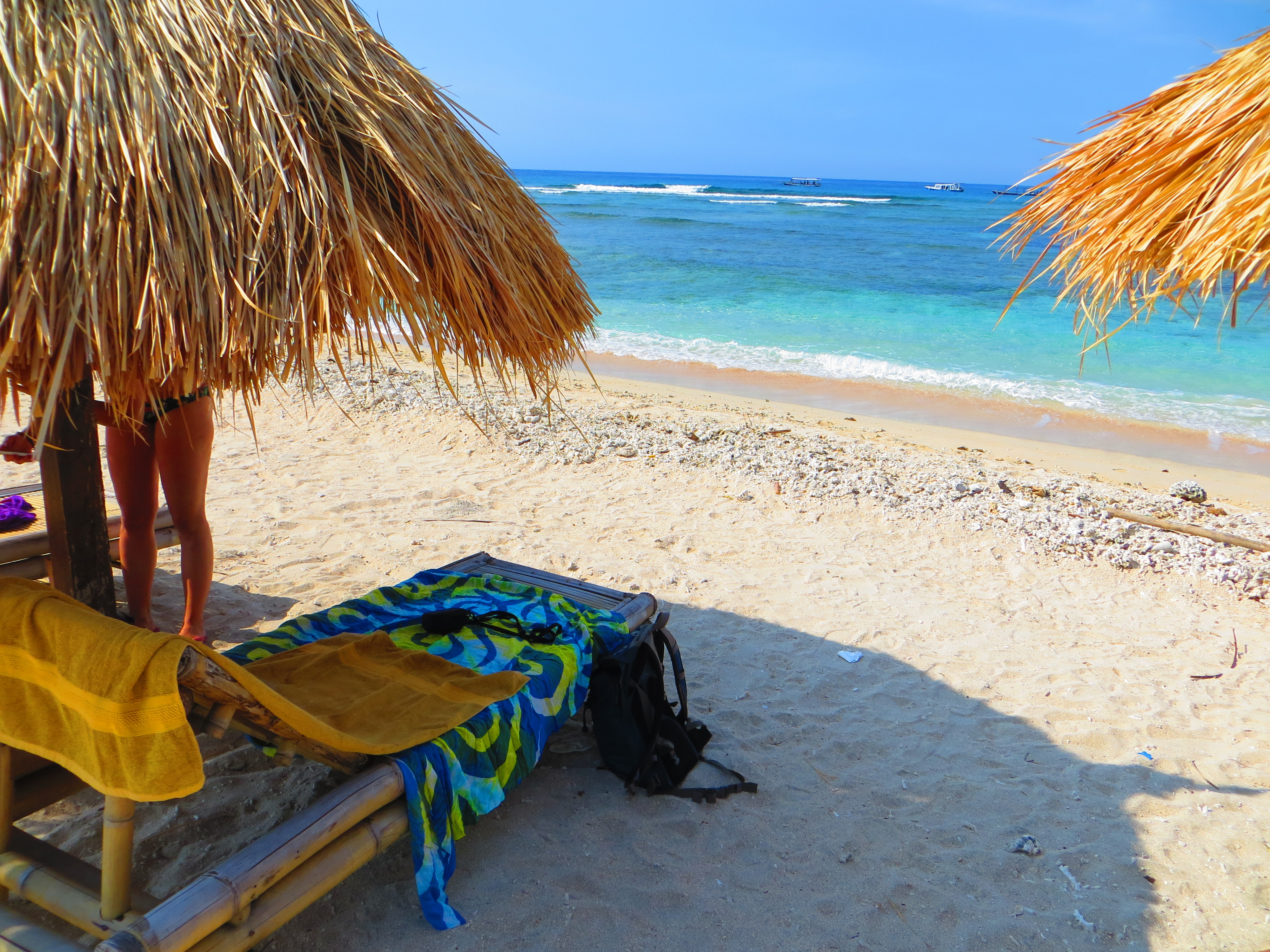 The next day we booked a 3-island snorkel tour for $8 each. We took a long, wooden, glass bottom boat out to 6 different snorkel spots around Gili T, Gili Air and Gili Meno. We saw many sea turtles and I was able to swim along side one which reminded me of my time in the Great Barrier Reef. That night we shared a plate of freshly caught shrimp, barracuda, and squid that was barbequed for us right on the beach by our hotel. It was some of the best seafood I've had.
The next day was our day of departure and this time we spent the $8 for the horse cart to bring us to the boat launch (actually, we got it for $6 with our amazing bartering skills). We decided to get seats on the upper deck as to avoid any possible gas fumes coming from down below. We sat next to two attractive men, both Canadians. Conversations took place, but we were so distracted by the amazing beauty of Lombok Island that we found words only got in the way of our reflection.
Once back in Padangbai, Mathilde and I got into a van which took us to our accommodation in Ubud. Champlung Sari Hotel was a pleasant surprise as we were upgraded to a superior room for our first night.
The following days were filled with exploring the city and going to the Monkey Forest where I learned it is not a good idea to touch or engage in eye contact with monkeys. They will attack you. We found an excellent café called Art Kafe where we felt at home and frequented many times while we were in the city. We loved the rustic vintage feel of the place as well as the super healthy and delicious food and juice combinations. While in the city, we decided to book a hiking trek up the famous active volcano, Mt. Batur. It is the second largest active volcano on the island and a very popular tourist activity. We bartered a really good deal, approximately $20/person for transport, a guided trek and breakfast. It was such a good deal that the man who picked us up told us not to mention it to the other guests on the tour. We agreed and smiled at each other knowing we had really mastered our bartering skills. The morning of the trek, we had to be ready for pick up at 2:00am. Yes, AM! We had to be up early because the whole point of the trek was to view the sunset from the top of the volcano. Sounds amazing, right? Well it was, but let me just clue you into the fact that it didn't come without a struggle. We started the hike in the pitch black around 4:00am. Everyone was provided with a hand-held light source, but I opted for my headlamp as it allowed me to use my hands if need be. The first 45 minutes of the hike were easy peasy. I thought, well this is going to be cruzey! After those 45 minutes, the real ascent began. Step after step after step, we slowly made our way up this volcano. In the beginning, I felt pretty strong and confident in my abilities to complete this trek. I mean, everyone said it was easy and if so many tourists do it, then of course I could too, right? Well yes, but let me just say that the agents that sell these treks have either never done the trip or make it sound super easy so they get more sales. I began to feel each step in my quads and the sweat rolling down my back began to increase. I was in pretty good spirits most of the way, but there came a breaking point. About 1.5 hours into the ascent, I began to curse at the volcano. I kept looking up and seeing the line of lights going up the volcano, thinking they were not far away from the top and trying to gauge how much longer it would take to get there. As my group approached a resting point, the guide informed us that we still had about 30 minutes left to get to the top. At that point, I was seriously thinking of quitting. I was breat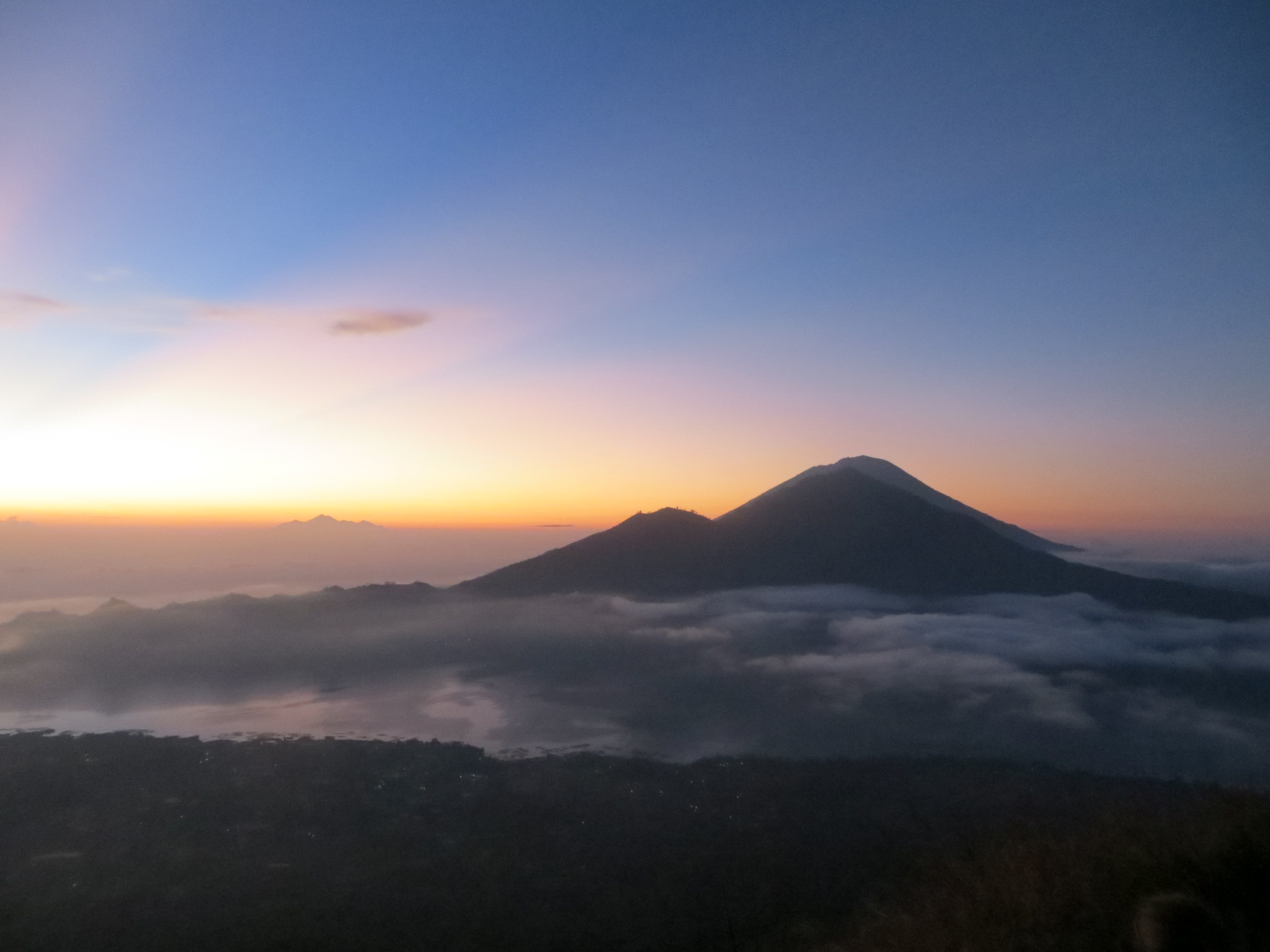 hing so heavy and was running on 1 hour of sleep and NO breakfast. I was empty. I discretely shed a couple of tears as I began to break, but Mathilde assured me that I could do it so I decided to push on. We made it to what I thought was the top, but in fact it was only the first viewing point for the sunset. We could opt to stop and view it from there, but it wasn't the very top of the volcano. I don't know about you, but when I go for a hike, if I don't reach the very summit, I don't feel like I conquered it and therefore, I feel it was pointless. So despite my burning legs, sweat soaked back and grumbling belly, I proceeded on. As we walked that last section to the top, we began to see the sky change from black to a deep red orange. The changing colors were the motivation I needed to make it to the top before we missed the very thing we were there for. When we finally made it to the top, I used both my hands to wipe the sweat off my face and thanked God for getting me there safely.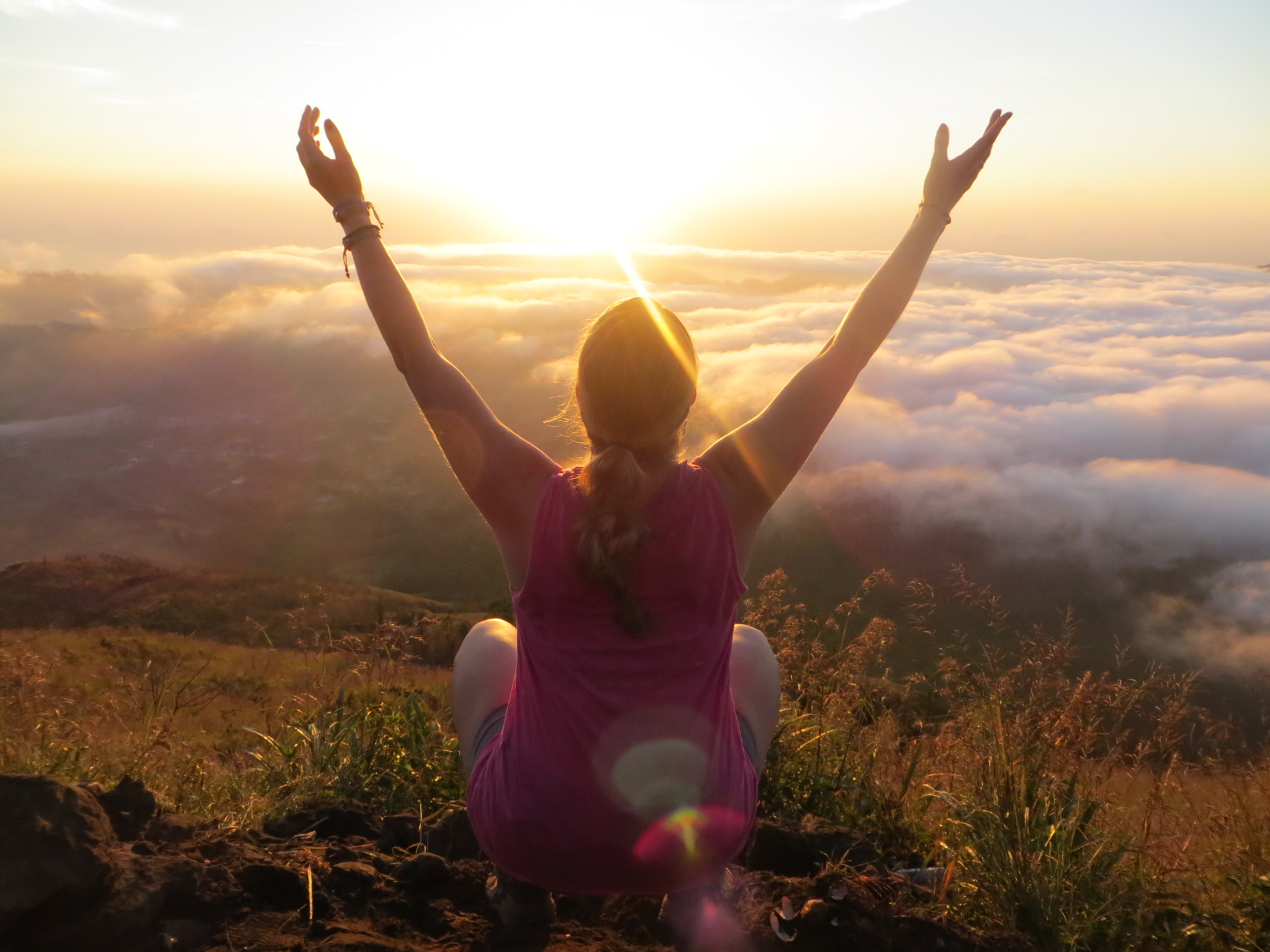 After finding a place away from the majority of the people, I took a front row seat to watch one of the most beautiful and memorable sunrises of my life. I played the song "Sky Full of Stars" by Coldplay while I watched because it is a song that so beautifully allows me to connect with the natural settings I've experienced in Australia. Another being when I was actually watching a sky full of stars while sleeping under them curled up in a swag while in Uluru. I felt closer to God than ever before and lifted my hands in prayer, thanking Him for the beauty before me. It felt amazing to have conquered such a challenging climb and to be able to witness such a magnificent sunrise on top of this steaming volcano. I was very proud of myself for making it to the top despite my inner grumblings on the way up. We lingered at the summit for about 30 minutes and then began making our decent by walking around the rim of the volcano. It was very narrow and at points there were very steep drop offs to my left and right where I could see the decade old paths of lava still present. Hot steam was escaping from cracks in the volcano and there were even people boiling eggs in a small opening of the volcano. As we approached the downward slope of the decent, I had to spent the first 20 minutes on my bottom and hands sliding down the deep piles of fine volcanic rock. Once able to stand back up, I struggled a bit with maneuvering down the mountain safely, but my guide saw that I was having a bit of trouble. He offered his hand and assistance in getting down the steep bits. At first my pride told me not to take it and that I could do it by myself, but not a second later I was taking his hand and appreciating his kind gesture to help me. I've learned that it is okay to ask for help and accept it when offered.
I was one of the last people to make it to the bottom, but I did not regret going slowly as it was very difficult at points and I wanted to prevent any potential injuries.
After making it back to the hotel, Mathilde and I decided to treat ourselves to a massage. We weren't too impressed with the service, but after my massage, I began a conversation with my masseuse who was a beautiful young lady recently married and talked to me about the pressures to have children. She polished my nails and then noticed my broken toe nail which I had cleverly broken off while riding my bike around Gili Trewangan. I had been apprehensive to remove it completely because I didn't want to take it off prematurely, but she insisted to cut the hanging section off and she was so gentle. She immediately opened up to me and I felt like I had known her for years. We talked about relationships, children and life. She felt like a sister and even though I was only with her for moments, our connection was as if we had known one another for years.
Sadly, that would be the last time I would see that kind young woman. The next morning, Mathilde and I had to say our goodbyes. We promised we would reunite again in the next year or so in a new place where we could continue building memories together. We're soul sisters and there is nothing that will ever break that, not even being thousands of miles away from one another!