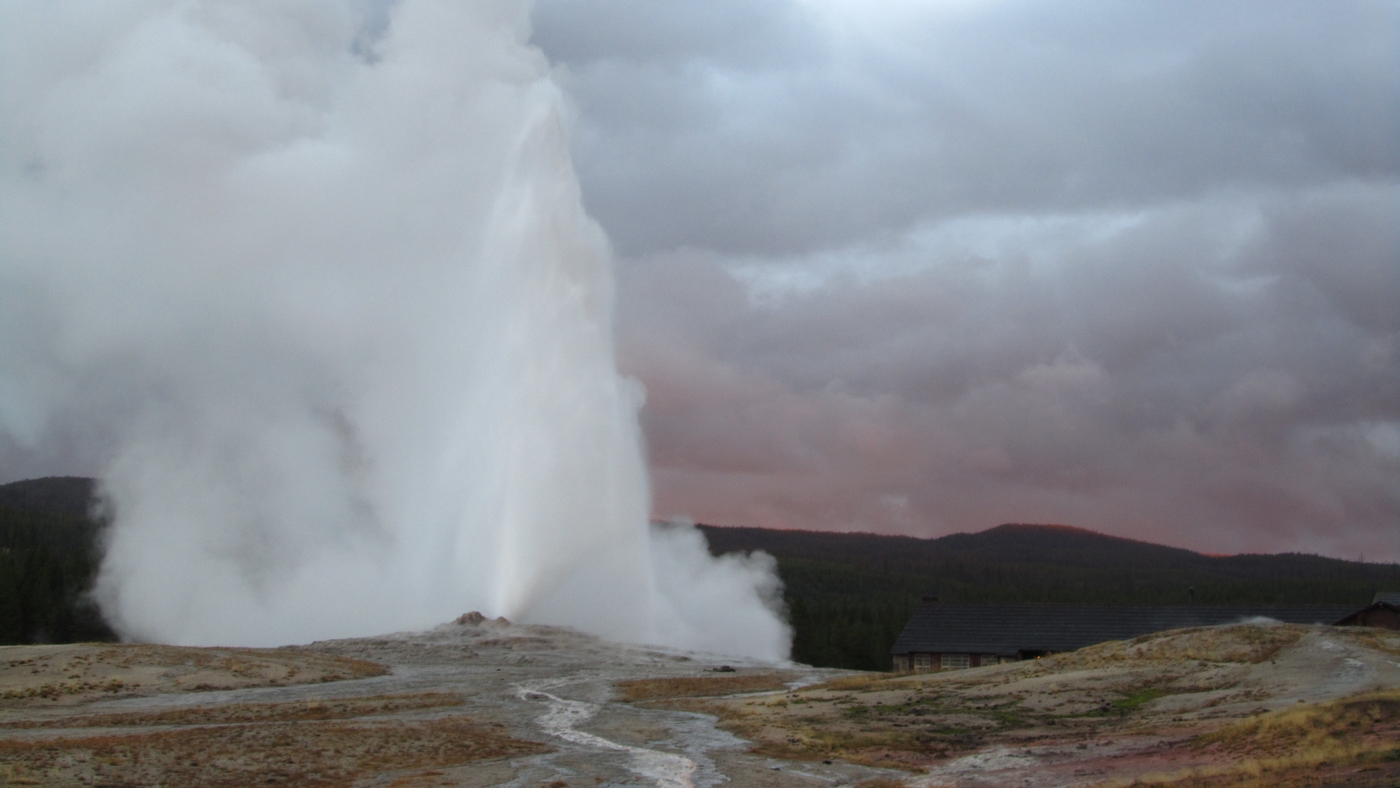 Yellowstone National Park
It was a rainy, dreary day when we approached the north entrance of Yellowstone National Park.  We unknowingly arrived just hours before the government shutdown was announced to occur at midnight, an action which would directly affect many national parks around the country.  Apparently congress feels that the first order of action in cutting costs in order to make up for a failure in budgeting is to cut the programs which affect the average citizen most.
Once in, we could have stayed for 7 days, but our rough time schedule had us getting to Jackson in order to spend a full day there on Tuesday.  It's never fun to have to rush, especially in lands as beautiful as Yellowstone, but we were able to see an amazing amount in a single day.
Boiling River Hot Springs
Unmarked Entrance, Just south of the 45th meridian sign, North Entrance
We started the day by going for a dip in the Boiling River.  It was about 45 degrees and we had about a half-mile trek to get there, so we ran.  Jumping over and around puddles, freezing cold with my memories of the last visit to this place firmly in mind we made our way down the path.  I had built it up pretty well to Amira, telling her about all of the warm pools by the river, and the boiling hot water entering from a stream next to the river.  When we finally got there, we found that the river was much higher than usual and was flooding over the stone barriers that would normally keep out most of the cold water.  We tried to find a place where we could relax, but the cold, muddy water was too much and overpowered the extremely hot water entering the river, which made it almost impossible to find a place that would be enjoyable enough to relax without having to constantly shift to avoid being burnt or frozen.
Onward, to Mammoth Hot Springs
We made our way along to see a herd of Elk that had taken up residence in the little town in Yellowstone at Mammoth Hot Springs, where we spent an hour walking around and viewing the pools of hot water and the strange living organisms which inhabited them.
From there we hit the road and stopped at everything that perked our interest.  We stopped for wildlife, getting photos of Elk, Buffalo and the many bubbling, peculating, steam covered features of the vast and beautiful landscape.  The best pictures of which are a part of this posts' photo gallery.
-Craig